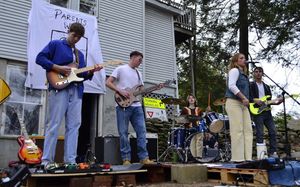 Twin Flames in the studio
Most of what we record is done in our home studio, otherwise known as the basement. An economical and effective alternative, since our budget is $zero, but we make the most of it and the results are pretty good. Sure we'd love to record and collaborate in a big fancy studio but...back to my budget.  Here is a short clip my dad took of me as we wrapped up the final tune on the new album. This song was a last minute addition, done in one take as a solo acoustic performance.
at the Stone Pony
What a thrill to be able to do a short solo acoustic set at the world famous Stone Pony in Asbury Park, New Jersey. I had been recording my first EP at a studio owned by Dan Skye called Skye Recording Studio in Roosevelt, NJ and he plays bass for a band called The New Bardots. The New Bardots were having a record release party and they were nice enough to invite me to play a set. I got to do some of my original songs, and I tossed in a Beatles tune for fun (since everybody knows who they are, right?)! You can't beat the vibe and the acoustics at the Pony.
Here is the full length version of my Stone Pony appearance....obviously being 16 years old and hanging out backstage where so many famous musicians have hung out was simply just amazing. Real pros working the sound and lights really makes a difference.
                                                   Covid Performances
The COVID pandemic has presented a lot of challenges to gigging musicians and in support of this our friend Mark Sacco (Ernie White Band, Jimmy and the Parrots, SLEE to name a few) ran a series of "Quarantine Concerts" on Facebook Live. He asked us to be a part of one and we contributed a favorite of mine by Tracy Chapman. Again from our "home studio", aka the basement.
Performing with Ernie white
Performing with Keith Mack